D-NOSES
Empowering citizens with Responsible Research and Innovation, citizen science and co-creation tools in order to co-design odour pollution control measures at local, national and global levels.
CHALLENGE
Odour pollution is the second reason for citizens' complaints after noise, across Europe. It has adverse impacts on human health since frequent exposure can lead to headaches, stress and respiratory problems. It is an indicator of larger environmental issues such as poor waste management, polluted water, etc. Nevertheless, odour pollution is repeatedly ignored in environmental legislation with few studies conducted and scarce statistics available.
SCOPE
Along these lines, since 2018 MIO-ECSDE is partner in the EU funded D-NOSES "Distributed Network for Odour Sensing, Empowerment and Sustainability" Programme, an Horizon 2020 specific programme with and for society SWafA). The project aims to empower citizens through Responsible Research and Innovation, Citizen Science and co-creation tools in order for them to design odour pollution control measures at local, national and global levels.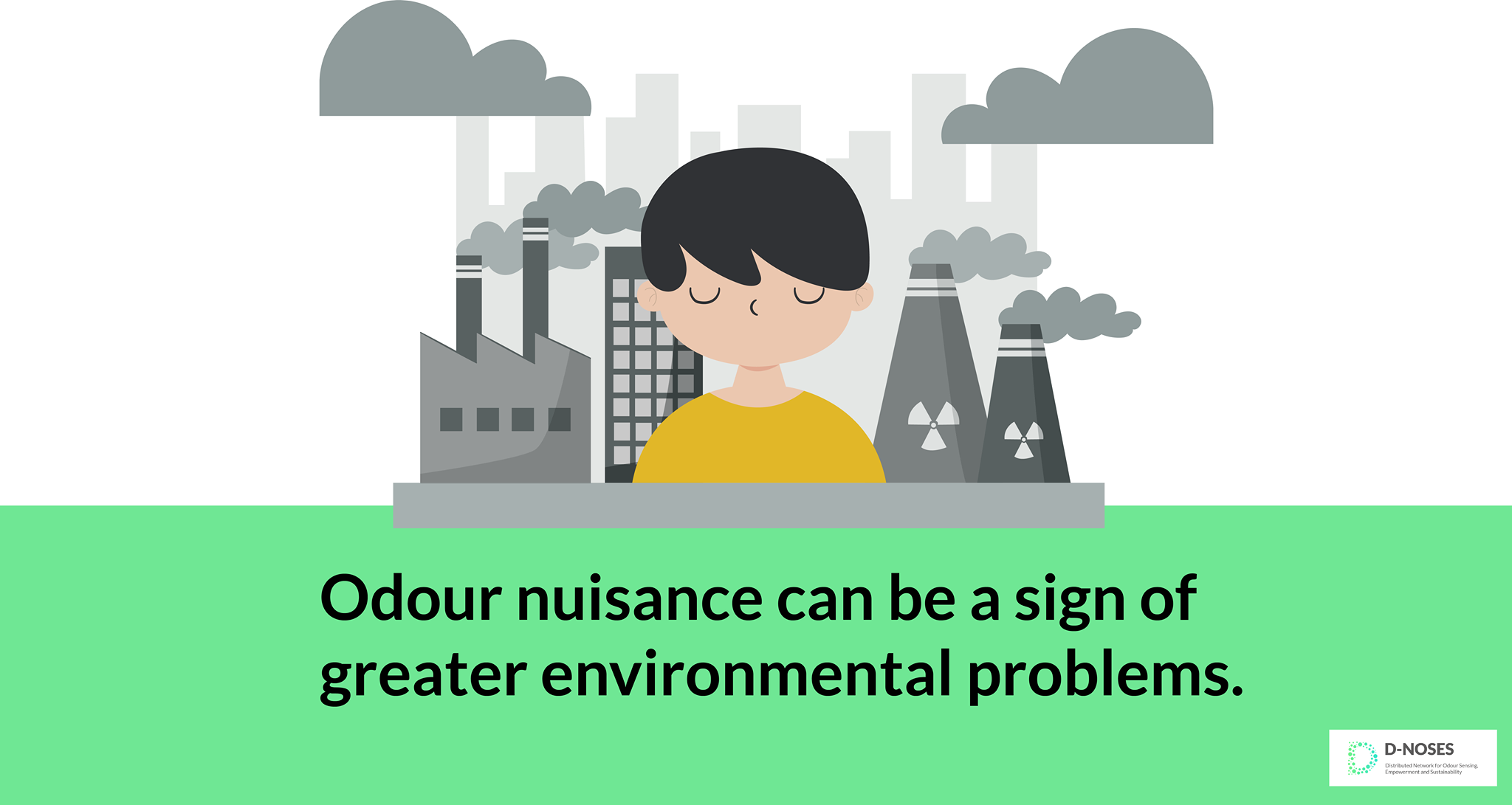 ABOUT tHE PROJECT
The programme lasts three years (April 2018-March 2021) engaging 14 Partners from Bulgaria, Spain, UK, Germany, Greece, Austria, Italy, Portugal, and Chile. Key expected outcomes concern the elaboration of pilot cases studies of local communities suffering from odour pollution, the development of innovative web applications and platforms to monitor and communicate odour pollution and namely, the International Odour Observatory and the OdourCollectApp as well as  a series of engagement plans and toolkits, advocacy and outreach tools (plan, policy briefs, etc.) and organisation of awareness raising activities targeting the citizens, teachers and students at all levels, among which a Massive Online Course (MOOC) on Odour Pollution, developed by MEdIES. 
Within the project, MEdIES develops Massive Open Online Courses (MOOCs) inviting online users to learn and explore the not so-well-known problem of odour pollution, gain understanding about its causes & impacts and get ideas on what we can do about it.
In this regard, the first MOOC which targets the general public, is more informative, while the second, which targets the educators proposes, also, a set of learning activiries and lesson planc for all age groups. 
MOOC contents
Getting to know odour pollution
Issues linked to odour pollution/impact 
Inclusion of citizens in odour management processes (measuring, monitorinr, reporting on odours)

Learning activities and lesson plans for three age groups 

 (in MOOC for educators)
FREE and easy access to the MOOC:
2.  Register by clicking "sign up for free"
3. Enter your email, username, password, gender and age. You will receive an email to confirm your account. Don't forget to confirm it!
4. Enroll to the MOOC.
5. Learn at your own pace.
6. Track your progress any time: completed units are marked!
7. Complete the MOOC – it takes approximately 3 hours to complete the MOOC for citizens (public) and about 6 hours to complete the course for the educators.
8. Get your certificate if you have answered all questions & completed the final test!